Are You Using Certified Compostable Products?
Amidst claims from every direction about environmental friendliness, it can be difficult to determine which claims can be trusted. Some supposedly "compostable" products do not biodegrade as expected. That's why it's important to check whether or not the products you're using are certified compostable.

What Is BPI Certified Compostable?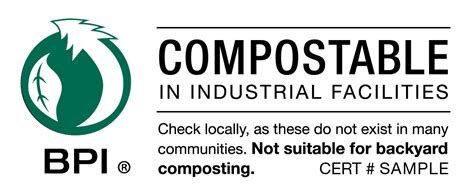 Look for this logo on products marked "Compostable"
The Biodegradable Products Institute® (BPI) was established in 1999 to help consumers and businesses alike understand more about compostability and find fully biodegradable products in a sea of greenwashed advertising. In 2002, ASTM D6400 and ASTM D6868 standards and respective tests were introduced to fight against misinformation about biodegradable and compostable products. BPI aims to identify and mark certified compostable products with a Compostable Logo program that indicates products that have passed these standardized tests.
Biodegradable Vs. Compostable Vs. Certified Compostable
Confused by all of the green terms? Although biodegradable and compostable are often used interchangeably, they actually refer to two different qualities in products. We can help you distinguish between these key phrases.


Biodegradable means that a product is able to break down into natural matter through biological processes. While most things (even plastic!) are technically biodegradable, this term is usually assigned to natural products that break down more quickly and without leaving toxins behind.


Compostable refers to natural waste that can be biodegraded for reuse. As a result, all compostable products are biodegradable (but not all biodegradable items can be composted). The end result of composting is called humus, and it makes the soil more nutrient-rich.
Certified Compostable plastics are proven to biodegrade at a rate comparable to known compostable materials. Plastics and products made from plastics must comply with ASTM D6400 standards to qualify, while biodegradable products with a plastic film sheet attached must comply with ASTM D686. Those products that qualify bear a BPI Certification Mark, and are considered to be designed to be composted in municipal and industrial aerobic composting facilities.

Ensure The Products You're Using Are Certified Compostable
Green Paper Products provides a wide range of BPI-certified compostable goods that fit every need to help you be more environmentally responsible. If you're ready to start making greener product choices, contact us to learn more, or check out just a few of our products below!
Shopping Bags — We offer certified compostable plastic shopping bags that fully biodegrade in 50–90 days. These bags are heavy-duty and suited to carry groceries, takeout containers, and more. They also serve as great compost bin liners once you're done using them.
Cutlery — Our BPI compostable certified disposable utensil packs are made from a proprietary bio-resin to be both durable for everyday use and fully biodegradable and compostable. These are great for use in cafeterias, restaurants, schools, business functions, catering, and events of any kind.

Trash Bags — We have certified compostable trash bags available in several sizes to conveniently fit multiple different trash bin sizes. These are also made from our Eco Friendly proprietary resin that combines strength and trusted quality with high levels of biodegradability.